High-Quality Swine Sires at Torpedo Farms
At Torpedo Farms, we offer several breeds of pig sires, including Durocs, Hampshire, Yorkshire and Crossbred swine that offer desirable traits fit for any farm in the state of Colorado and beyond. Our sires are often chosen for their meat quality, growth rate, and other desirable traits, perfect for show or to increase genetics aptitude.
Take Part in Our Swine Auctions, Meat & Semen Sales!
Online Auctions
Our online auctions for swine provide an efficient and seamless way for buyers and sellers to connect without the need for physical presence. At Torpedo Farms, our auctions allow buyers to bid on a range of swine breeds and qualities, completely virtual and at their convenience.
Certified Duroc Pork
Duroc pork meat sales are popular due to the breed's excellent meat quality, including marbling and tenderness. That's why at Torpedo Farms, we give our customers the best in premium meat products.
Swine Semen
We know that buying high-quality swine semen is crucial for pig farming, as the genetic traits of the boar can significantly impact quality and productivity. At Torpedo Farms, our semen is from healthy boars with desirable traits that are sure to bring you success.
About Torpedo Farms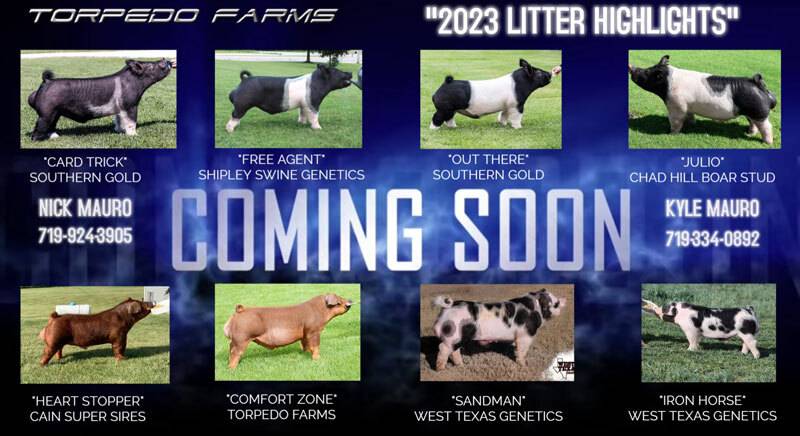 We started raising hogs back in 1970 with one registered Duroc sow as a 4-H project. Four generations of Mauro's from my grandfather to my own boys have had the opportunity to work on the farm. We raise Durocs, Hampshire, Yorkshire and Crossbred swine. We run a 125 sow operation in Pueblo, Colorado.